The following is a list of Beercelona team and player all-time records.
Team Records Edit
Biggest Win: 9-2 Win vs Chivas Season Seven
Biggest Defeat: 9-1 vs Sangre Azteca 10/14/15 Season One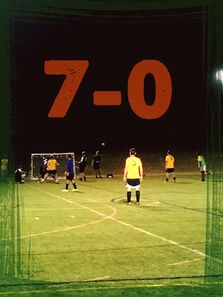 Highest Scoring Game: 9-2 Win vs Chivas Season Seven
Highest League Finish: 4th Season Five
Most Points in a Season: 16 Season Seven
Highest Scoring Season: 35 Season Five
Most Clean Sheets in a Season: 4 Season Five
Longest Run Without Losing: 5 games - 22/12/16 Season 5 to 1/18/17 Season 6
Longest Run Without Winning: 12 10/13/15 Season 1 to 1/20/16 Season 2
Player Records Edit
Top Scorer: David Slocum 23
Highest Goal to Game Ratio (must have played over ten games) - Ryan Buczman
Most Appearances: Peter Hannah 61
Most Goals in a game: David Sergison 4 - V Sangre Azteca 2016, Matthew gibson 4 v Chivas 2017
Most Goals in a Season: Matthew Gibson - 15 (Season 7)
Worst Discipline: Chris Walsh (4 blue cards, 1 yellow card)
Most Red Cards: Connor Hall - 1
Longest Serving Players Edit
The following players have played in all seven of the Beercelona Regular Seasons.
Community content is available under
CC-BY-SA
unless otherwise noted.