David Slocum (b 1977) is an American soccer star currently playing for Beercelona in the Four Corners Division Two. He is currently the highest goalscorer in the clubs history. An explosive presence on the pitch, Slocum leads by example, driving at defenses and rousing fans with his all action-performances.
Early Life Edit
Slocum grew up in the Pacific Northwest. A keen outdoorsman, soccer was just one of the athletic avenues he explored growing up. Slocum played collegiate soccer before moving down to Florida.
Beercelona Edit
Slocum turned out for the Green and Gold for the first time at the back end of Season Three, running out against PSG Mex on June 8th 2016. He had to wait until the following season for his first goal, a thunderous drive against America on July 6th. That season he established himself as the best shadow striker in the league, leading the teams goalscoring charts with six goals and winning the Player or the Season award.
The Fifth season was another good one for Slocum, who scored seven goals and picked up the Goal of the Season award for a trademark power-blaster against America. Solucm was sent off for the only time in his Beercelona career against Azteca in August for arguing with the ref. Manager Hannah said he had no issue with Slocum's discipline. "I think if you take that aggression out of David Slocum you lose the intensity that makes him such a force on the pitch. As a defender I certainly don't want to play against players like that."
Season six saw Slocum continue in his familiar role, now fully embedded in the fabric of the team, he's become one of the most consistent performers in the team and ranks fifth in their all time appearance chart, despite not playing the majority of the first three seasons. On the 1st of March 2017 David scored two fantastic goals that saw him move clear of Andrew Butt as the clubs all time leading scorer with 16 goals.
"Playing with David is awesome because it gets you totally jacked up," said Hannah, "he feels every goal and just won't quit. You can't help but be inspired by that kind of guy. He's a winner, and that's certainly not something bad to have amongst the ranks."
Career Statistics Edit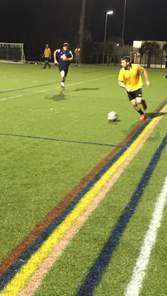 | | A | G | Mom | Awards |
| --- | --- | --- | --- | --- |
| Season 3 | 2 | 0 | 0 | |
| Season 4 | 12 | 6 | 3 | POY, Top Scorer |
| Season 5 | 13 | 7 | 1 | GOS |
| Season 6 | 9 | 5 | 1 | |
| Season 7 | 10 | 7 | 1 | |
| Total | 45 | 23 | 5 | |
Honors: 2017 Division 2 Championship
Personal Honors: Player of the Season, Top Scorer, Goal of the Season
Community content is available under
CC-BY-SA
unless otherwise noted.